A bit about me...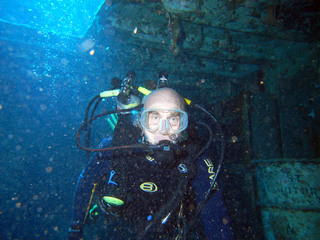 I LOVE TO WRITE ABOUT EXTREME ACTIVITIES IN EXTREME ENVIRONMENTS. THAT DEFINES BOTH MY NON-FICTION WORK AND MY NOVELS. My books introduce readers to fascinating people doing world-changing work in strange new worlds. Partly that's because on my way to becoming a book author I experienced, and wrote about, such things. But I think it probably has something to do with brain hard-wiring as well.

I was born in Virginia, raised in Connecticut, colleged in Vermont, and MFAed at Johns Hopkins in Baltimore. There I studied with the acclaimed novelist John Barth, who was kind of a Dan Brown/Jonathan Franzen mashup. (I do hope Mr. Barth, whom I revere and who lives still on Maryland's Eastern Shore, finds merit in that comparison.)
Between then and now,I did just about every kind of writing people would pay me for. For some years I was a Contributing Editor to Outside Magazine and SKI Magazine. I also wrote for Smithsonian, Sports Afield, Western Horseman, Reader's Digest,The Wall Street Journal, The Washington Post, Barron's, Forbes, and many other national magazines. I wrote a lot about extreme activities and the people who did them, so along the way I became a mountaineer, scuba diver, caver, hang glider pilot, horseman, firearms expert, and father. (Anybody who thinks that last one doesn't belong hasn't done it.)
At one point I got into television, writing and hosting a national PBS series called "The Great Outdoors," which involved having hair-raising experiences with world-famous adventurers. (I even published a few poems, and my heart goes out to writers trying to live on THOSE payments.)
Occasionally, necessity (read: shelter and food) dictated treading a few less traveled roads. Thus I managed a gritty little night club where Emmy Lou Harris and Bruce Springsteen, among others, played before they got big.(Factoid: Emmy Lou's daughter had the same name as my mother: Hallie) I served as a street cop,and later a sergeant, with the Metropolitan Police Department of Washington, D.C., when that city was called, with good reason, "The Murder Capital of the U.S." There was that stint as a television personality with national PBS mentioned above.
There have been three dominant themes in my life: family, writing, and Vermont.
These days I scuba dive a lot (Lake Champlain is cold and dark, but also a treasure trove of historic wrecks, as is the nearby St. Lawrence), ski our mountains in winter,swim the rivers, ride and hike the trails in summer, do a little partridge hunting in the fall.
Living in Vermont keeps us close to the rhythms of the seasons and the land, and people are sprinkled around here so sparsely that we can actually get along. Having traveled all over the world, I've never found a more magical place, nor one where I'd rather live and write.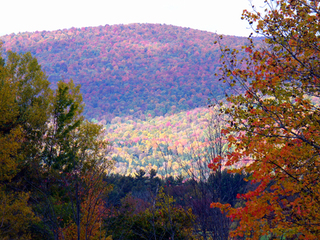 The view from here. Vermont's rich in local color of many kinds.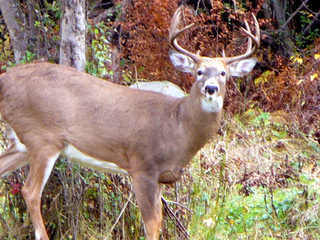 It's tempting to caption this, "Our neighbors are really horny." In reality, Mr. Buck likes the apples that fall from our trees. We really do consider him a neighbor, though.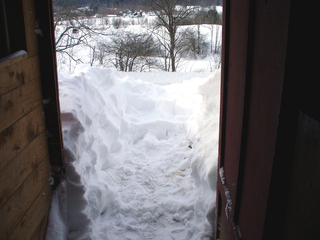 Valentine's Day, 2007. We had to dig down three feet to reach the horses in the barn.